Warszawa i Okolice:
Piastów, Pruszków, Ożarów Mazowiecki, Błonie, Grodzisk Mazowiecki, Nadarzyn, Milanówek, Podkowa Leśna, Falenty, Piaseczno
Rolety tego typu są najbardziej popularne wśród przesłon okiennych. Swoją lekkością i funkcjonalnością rolety w kasecie z prowadnicami bedą pasowały do każdego wnętrza.
Nasza rolety w kasecie wykonujemy dla Klientów z Warszawy (Bemowo, Praga Południe, Śródmieście, Wola, Białołęka, Ursynów inne dzielnice) oraz okolic (Ząbki, Marki, Legionowo, Łomianki, Piaseczno i inne). Na terenie Warszawy dojazd do klienta gratis. Zapewniamy profesjonalną wycenę usługi, atrakcyjne ceny i rabaty. Zachęcamy do zapoznania się z poniższym opisem rolet.
Z uwagi na jakość, wygląd estetyczny oraz praktyczność, rolety kasetowe są popularnym i często spotykanym produktem w naszych domach.
System do rolet jest wykonany w całości z aluminium, co pozwoli na użytkowanie rolet przez długi okres czasu.
Materiały do rolet kasetowych wykonane są z poliestru, lnu a kolorystyka jest dobrana tak, aby każdy Klient znalazł coś dla siebie. Rolety kasetowe wykonywane są w kilku systemach oraz w różnej kolorystyce kaset.
To sprawia, że tego typu rolety możemy zamontować do każdego typu oraz koloru okna. Szczegółowe informację znajdą Państwo powyżej.
Zachęcamy również do kontaktu z naszą firmą. Doradcy przedstawia wszystkie możliwe sposoby montażu, jak i pełną kolorystykę rolet.
DANE TECHNICZNE ROLET KASETOWYCH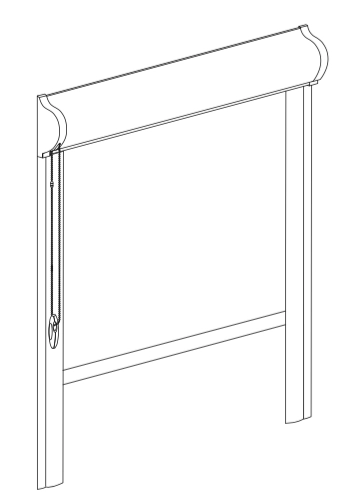 Maksymalna szerokość: 150cm
Maksymalna wysokość: 220 cm
Standardowe kolory kaset:
biały, brązowy, antracyt, silver
Kolory kaset drewnopodobne:
mahoń, dąb, dąb bagienny, jasny dąb, złoty dąb, wiśnia, orzec

Sterowanie:
łańcuszkowe, elektryczne (radiowe).

Rodzaje tkanin naszych rolet
Niepalne, wodoodporne, podgumowane, refleksyjne oraz z atestem higienicznym. Kierując się wyborem rolet należy postawić na własny gust, przeznaczenie oraz praktyczność w danym pomieszczeniu. W naszej kolekcji znajduje się około 300 kolorów jak i wzorów. Materiały do rolet dzielą się na wzorzyste i gładkie. Każdy z materiałów posiada różnego rodzaju właściwości.
Konstrukcja i wykonanie rolet w kasecie z prowadnicami
Kaseta i prowadnice rolety wykonane są z aluminium, malowane są proszkowo, co pozwoli na utrzymanie rolety na długie lata.
Standardowe kolory do rolet fantazja to: biały, brąz, beż oraz srebrny, jeśli posiadają Państwo okna drewnopodobne proponujemy osprzęt drewnopodobny taki jak: orzech, machoń, złoty dąb, sosna.
Mechanizm rolety w kasecie "fantazja" jest skonstruowany tak aby, podnoszenie oraz opuszczanie rolety odbywa się przy pomocy jednego koralika a wbudowanych hamulec zapobiega bezwładnemu opadaniu materiału.
Polecamy też nasz żaluzje aluminiowe na wymiar, wykonywane na terenie Warszawy i okolic.
Sposób montażu rolet w kasecie
Standardowo rolety przykręca się do listew przyszybowych, a prowadnice są przyklejane wzdłuż okna.
Drugi sposób: Jest całkowicie bezinwazyjny czyli kasetę oraz prowadnicę przyklejamy przy pomocy taśmy dwustronnej.
Kolejny trzeci sposób montażu jest również bezinwazyjny, ale kasetę rolety umieszczamy na dole ramy okiennej. Dzięki temu materiał podnosimy od dołu do góry. Głównie sprawdza się to w mieszkaniach parterowych.
Galeria tkanin roletowych
Bogaty wybór materiałów i wzorów rolet kasetowych
Rolety w kasecie oferowane przez nas dla klientów z Warszawy i okolic są chętnie wybierane przede wszystkim z powodu szerokiej gamy tkanin i wzorów, jaką proponujemy.
Do dyspozycji masz ponad 300 różnych możliwości. Są wśród nich gładkie materiały w uniwersalnych i zawsze modnych kolorach, takich jak beże, szarości, brązy czy odcienie bieli idealne do małych i ciemnych wnętrz. Do aranżacji, w których rządzą designerskie, nowoczesne rozwiązania, proponujemy rolety w nowoczesnych, soczystych kolorach z gamy niebieskiej, zielonej czy żółtej. Oferujemy również duży wybór tkanin wzorzystych.
Rodzaj materiału na rolety wewnętrzne dobieramy po analizie potrzeb i oczekiwań klienta. Na życzenie inwestora możemy zrealizować zamówienie na rolety z tkaninami wodoodpornymi, niepalnymi, podgumowanymi lub posiadającymi atest higieniczny.
Chcesz, aby Twoje mieszkanie, biuro czy każde inne pomieszczenie było odpowiednio chronione przed słońcem, zapewniało prywatność, a jednocześnie wyglądało modnie i designersko? Nasze rolety kasetowe to rozwiązanie, które Ci się spodoba! Skontaktuj się z nami już dziś i zamów bezpłatną wycenę i pomiar!