Warszawa i Okolice:
Piastów, Pruszków, Ożarów Mazowiecki, Błonie, Grodzisk Mazowiecki, Nadarzyn, Milanówek, Podkowa Leśna, Falenty, Piaseczno
Nowoczesna roleta połączona z funkcją żaluzji dała niesamowity efekt. Rolety dzień noc można spotkać niemalże w każdym mieszkaniu.
Rolety dzień noc w dowolnym rozmiarze i kolorach
Nowoczesny rodzaj osłony wewnętrznej. Wykonywany w wielu systemach z dużym wyborem tkanin stawia rolety dzień noc jako najpopularniejszy rodzaj rolet na rynku. Połączenie systemu rolety i żaluzji przyniosło niesamowity efekt zainteresowania wśród Klientów. Rolety dzień noc mogą być zamontowane do ściany, sufitu lub bezpośrednio do okna. Dzięki różnej kolorystyce kaset, system rolet pasuje do każdego typu okna. Montowane bezinwazyjnie nie uszkadzając ramy okna. Rolety dzień noc wykonane są z tkaniny zamontowanej w sposób, że dwie warstwy materiału przesuwając się między sobą pozwalają na płynną regulację ilości wpadających promieni słonecznych a także osłony całkowitej. Nasi sprzedawcy przedstawia wszystkie możliwe sposoby montażu, systemy, wyrób gotowy oraz kolory rolet dzień noc.
Rolety Warszawa – nasza oferta przeznaczona jest dla Klientów z Warszawy (Bemowo, Praga Południe, Śródmieście, Wola, Białołęka, Ursynów inne dzielnice) oraz okolic. Ząbki, Marki, Legionowo, Łomianki, Piaseczno i inne. Na terenie Warszawy dojazd do klienta gratis. Zapewniamy profesjonalną wycenę usługi, atrakcyjne ceny i rabaty. Zachęcamy do zapoznania się z poniższym opisem rolet.
Szukasz uniwersalnych, funkcjonalnych, a przy tym estetycznych rolet, które będą pasowały do każdego pomieszczenia? Jeśli tak, rolety typu dzień noc mogą być dla Ciebie idealnym rozwiązaniem! Te osłony okienne, ze względu na swoją przemyślaną konstrukcję, nie tylko pozwalają w pełni dopasować jasność pomieszczenia do Twoich potrzeb, ale także pięknie się prezentują.
Działanie rolet dzień noc
Rolety dzień noc składają się z naprzemiennie ułożonych kryjących i przejrzystych pasów materiałów. To sprawia, że łączą w sobie funkcjonalność zasłon i firanek. W zależności od ułożenia, zaciemniają pomieszczenie, lub przepuszczają światło, wciąż zapewniając domownikom prywatność.

Taka konstrukcja rolet sprawia też, że produkt też bardzo ciekawie i atrakcyjnie wygląda, oraz jest ozdobą każdego pomieszczenia! 
W jakich pomieszczeniach sprawdzą się rolety dzień noc?
Rolety dzień noc najlepiej spiszą się w pokojach, w których ważna jest możliwość regulowania stopnia nasłonecznienia. To doskonały wybór do sypialni oraz pokoju dziecięcego, ponieważ za pomocą rolet można całkowicie zaciemnić pomieszczenia także w ciągu dnia.

Poza tym, tego typu rolety są też świetnym rozwiązaniem do domowego biura. Fakt, że ich ustawieniem można niemal dowolnie manipulować pozwoli na dopasowanie jasności do własnych potrzeb. Dzięki roletom osoba pracująca będzie mogła cieszyć się pogodnym dniem bez niedogodności, jaką jest słońce świecące na monitor komputera.

Tak jak wspomnieliśmy, rolety są niezwykle uniwersalne. Na naszych realizacjach można zobaczyć, jak prezentują się w różnych pomieszczeniach. Ich unikatowa konstrukcja sprawia, że są chętnie montowane także w salonie, a nawet w kuchni czy łazience!
Rolety dzień noc na wymiar - Warszawa i okolice

Jeśli myślisz o montażu rolet dzień noc, zapraszamy do kontaktu. Na naszej stronie nie tylko znajdziesz szeroki wybór tego rodzaju artykułów, ale dodatkowo oferujemy bezpłatne doradztwo i pomiar z dojazdem do klienta na terenie Warszawy i okolic!
DANE TECHNICZNE ROLET KASETOWYCH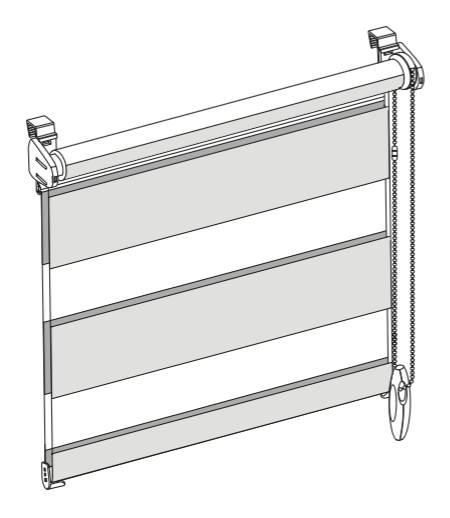 Maksymalna szerokość: 150cm
Maksymalna wysokość: 220 cm
Standardowe kolory kaset:
biały, brązowy, antracyt, silver
Kolory kaset drewnopodobne:
mahoń, dąb, dąb bagienny, jasny dąb, złoty dąb, wiśnia, orzec

Sterowanie:
łańcuszkowe, elektryczne (radiowe).

W naszej ofercie dostępne są już rolety kasetowe w systemie elektrycznym. Napęd do rolet umieszczony jest w rurze nawojowej, jest całkowicie nie widoczny , obsługiwany jest za pomocą pilota w technologi radiowej. Napęd ładujemy za pomocą kabla USB jest on wydajny aż do 4 m-cy działania. Zachęcamy do zakupu szczegóły u sprzedawcy. 
Obudowa została wykonana z aluminium co jest bardzo ważne a wygląd przez długie lata użytkowania pozostanie bez zmian w porównaniu z obudowami plastikowymi, malowanie odbywa się metodą proszkową na kolory standardowe  biały, brąz. Dodatkową opcją jest to że kasetę rolety możemy pomalować zgodnie z wybranym kolorem przez klienta.
Do wyboru są dwa sposoby montażu rolet dzień noc. 
Kaseta jest przykręcana do listwe przyszybowych a prowadnice przyklejane.
Montaż tzw. bezinwazyjny, całość jest w pełni przyklejane do ramy okna. 
Galeria tkanin rolet dzień noc